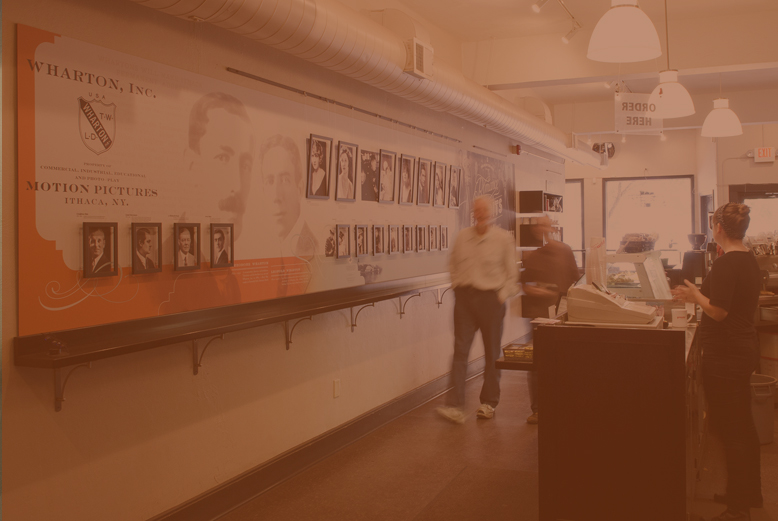 Wharton Studio Museum is preserving and celebrating Ithaca's role in early American filmmaking, and developing the historic Wharton Studio building in Stewart Park into a park center with exhibits and installations about film history and the history of the park.
WHO WE ARE AND WHAT WE'RE DOING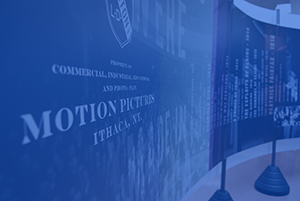 Wharton Studio Museum produces four annual events -- Silent Movie Under the Stars (August); Silent Movie Month (October); Silents Roar! Film Festival (spring); and Party for the Park (September, in collaboration with Friends of Stewart Park) -- in addition to other screenings, presentations and exhibits throughout the year. View our Calendar of Events and Exhibits for full details.
EVENTS AND EXHIBITS
YOU help support WSM's mission, programming and educational outreach when you make a gift!
WAYS TO SUPPORT
UPCOMING EVENTS AND EXHIBITS
Upcoming

Writer/filmmaker Michael Watson comes to Buffalo Street Books to talk about his new comic book ITHAQA, a Lovecraftian tale set…

Upcoming

Join ITHAQA Comic creator and writer Michael Watson for a "Make Your Own Comic: A Hands-on Workshop for Kids"  the…

Upcoming

Registration is now OPEN for Wharton Studio Museum's 3rd Silents Roar! Film Festival taking place Saturday, April 18th at 1:00…

Upcoming

WSM is thrilled to be, once again, collaborating with Cornell Costume and Textile Collection, this time on a new installation…

Upcoming

Wharton Studio Museum enthusiastically invites you to the book launch party for Silent Serial Sensations: The Wharton Brothers and the Magic of…

TAKE A WHARTON STUDIO MUSEUM SILENT FILM TOUR

WSM has created a Wharton Studio Silent Film Tour. This self-guided tour takes you to a number of Ithaca's silent movie history locations, beginning with the historic Wharton Studio building in Stewart Park and on to Cornell University's campus and then on to Upper Treman! It's fun and informative! WSM thanks Randi Kepecs for her help in producing the tour.

NEW WSM VIDEO ... TAKE A LOOK!

WSM happily premieres its series of 60-second videos! We hope each one gives you a sense of Wharton Studio history and what WSM is doing to highlight it!

Here's Archelaus "Arch" Chadwick who designed and built elaborate sets for Wharton Studio's Beatrice Fairfax, The Great White Trail and Mysteries of Myra.

WSM thanks Ancient Wisdom Productions for its great work on this project! Stay tuned for the next video coming soon....

Be in the know about what's happening at Wharton Studio Museum.

What people are saying about Wharton Studio Museum

The Wharton Studio Museum, under the intrepid leadership of Diana Riesman, has been a wonderful addition to Ithaca's vibrant film scene, shining a light on the city's fascinating silent film history. In addition to all the events and exhibits that WSM has presented to draw attention to this history, it has also regularly partnered with Cornell Cinema in the presentation of silent films with live musical accompaniment, with the mutual goal of introducing new audiences to the richness of the genre.

Mary Fessenden, Director, Cornell Cinema

Ted and Leo Wharton were leading players in the exciting story of silent cinema in the 1910s. The remarkable work of the Wharton Studio Museum has been instrumental in making that story known and keeping it alive more than a century later. Film scholars and cinema enthusiasts alike are in the debt of WSM and its executive director Diana Riesman.

Barbara Tepa Lupack, New York State Historian and Public Scholar (2015-2018) & Fellow, Rockwell Center for American Visual Culture